Losing a pet can be as painful as losing a family member – in fact out pets are family members, and it is normal to grieve for their loss as we would any other loved one.
Is it abnormal to mourn for a pet?
No. Humans and animals can develop bonds. This is natural, as the relationship between humans and animals is mutually beneficial. Numerous studies have documented the physical and mental health benefits that companion animals can offer. Grief is a natural response to any significant loss; therefore, it is very common for humans to experience strong grief reactions to the death of a beloved companion animal, just as they would with the loss of any other family member.
Local Counselors
Counseling Connections for Change
2549 Roy Rd,
Pearland, TX 77581
Phone: 281-485-9280
Pet Loss Counselors
Sinead Lancaster LMSW, ACP, LMFT
3701 Kirby Drive #890
Houston, TX 77098
Phone: 713-268-6734
NW Houston Pet Grief Society
11931 Quail Creek DR
Houston, TX 77070
Phone: 281-655-1128
Lynn Davidson, Med, LPC
Pet Bereavement Counseling Services
2400 Westheimer, Suite 209W
Houston, TX 77098-1305
Phone: 713-522-8344
Pet Loss Support Groups
Last Wishes Grief Support Group
3036 Antoine Drive
Houston, TX 77092
Phone: 713-999-6271
Email: wecare@lastwishes.com
Pet Loss Support Hotlines
Tufts University
Monday-Thursday, 6-9PM ET
Phone: 508-838-7966
Michigan State University
Tuesday-Thursday, 6:30-9:30PM ET
Phone: 517-432-2696
University of Florida
Phone: 352-294-4430
Washington State University
Mon-Thurs, 7PM-9PM, Sat: 1-3PM
Phone: 1-866-266-8635
IAMS Pet Loss Support Centre
Phone: 888-332-7738
SPCA of Texas
Phone: 214-461-5131
The American Society for The Prevention of Cruelty to Animals
Stephanie LaFarge, Ph.D.
Phone: 877-474-3310
Websites and Chatrooms
www.humananimalbondtrust.org
www.argusinstitute.colostate.edu
www.aplb.org
www.petloss.com
www.pet-loss.net
Helpful Reading on Pet Loss
Especially for Children
Remembering My Pet
Nechama Liss-Levinson, PhD, and Rev.Molly Phinney Baskette, MDiv, SkyLight Paths Publishing, 2007.
Especially for Adults
Coping with the Sorrow on the Loss of Your Pet
Moira Anderson Allen, Dog Ear Publishing, 2007.
"Grief is the Price you Pay for Love" – Queen Elizabeth II
The urn that comes with your pet's cremation is the Imperial Urn as pictured here. The Imperial Urn Series is a vertical wood grain crafted in the finest quality of Oak, Cherry, Walnut and Maple.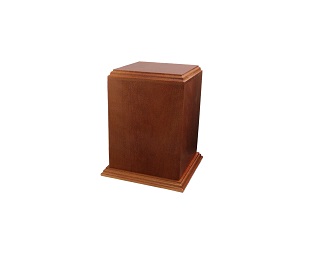 There are also a wide variety of other urns and jewelry options for you to choose from for an additional fee. Please use the following link to view the assortment if you would like to consider the upgrade for your pet's ashes. Please let us know when you come in for your appointment what your urn or jewelry selection is.