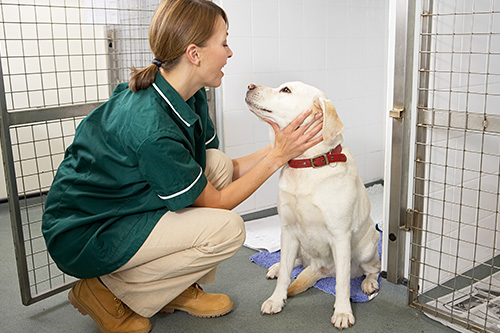 This week marks Animal Shelter Appreciation Week – a time to recognize the care that shelters and rescues provide to abandoned and stray animals, and recognize the dedicated people who support these organizations.. Animal shelters and rescues play an important role in the communities they serve. They provide a safe haven for animals until a forever home can be found.
While the exact number of shelters and rescues is hard to nail down, it is estimated that there are around 3,500 animal shelters in the United States alone, and over 10,000 rescue groups in North America! With an estimated 4 million cats and dogs adopted from shelters each year, it's easy to see the important role that shelters play in the lives of homeless animals.
Whether you're an active volunteer, have adopted a shelter animal, or are considering adoption, this week is a time to show your community shelter how much their work is appreciated!
Here are some ways you can show your appreciation:
Become a volunteer. Most shelters have community volunteer programs to support their fulltime staff. Volunteer activities may include cleaning and sanitizing kennels, socializing with cats, dogs, and small mammals (rabbits, hamsters, gerbils), or assisting with fundraising events.
Make a donation. Many shelters will gladly accept donations of food, blankets, towels, and toys. Most shelters have a 'wish list' – if not, check with them to see what items they could use.
Make a financial contribution. Providing food, shelter, and care is expensive. Some pets arrive at shelters needing costly medical treatment, surgery or dentistry before they can be adopted into a new home. Many shelters do not receive any sort of government funding and rely solely on private donations and fundraising. Every donation counts!
Be alert. Pay attention to the animals in your neighborhood. Shelters depend on community members to report neglected or abused pets, strays, and injured animals. Report your concerns. Let your shelter know if you suspect animal cruelty.
Spread the word. Social media is an excellent way to spread the word about Animal Shelter Appreciation Week. Follow your community shelter on Facebook and Instagram and share their posts. Even if you yourself can't adopt a pet, someone in your social circle may be interested in adding a furry friend to their family.
Visit your community shelter. Take a tour of your shelter, and while there, say a big "thank you" to the staff! Words of thanks go a long way to let shelter staff know how much their work is appreciated.
Do your part. Be responsible. Spay or neuter your pet to avoid adding to the pet overpopulation problem. Microchip your pet for easier identification should he escape or become lost.
Adopt a pet. What better way to support your shelter than to adopt a furry friend? Cats and dogs make wonderful companions, but remember: a pet is a big commitment. Before adopting any pet, determine if you have what it takes to become a pet parent. Your shelter is a great resource to help with this, and they may have just the right match!
LifeLearn News
Note: This article, written by LifeLearn Animal Health (LifeLearn Inc.) is licensed to this practice for the personal use of our clients. Any copying, printing or further distribution is prohibited without the express written permission of Lifelearn. Please note that the news information presented here is NOT a substitute for a proper consultation and/or clinical examination of your pet by a veterinarian.